The EU Delegation to Ghana, together with the Netherlands Embassy, were hosted by the Apapam Chief, Osaberima Okogyeaman Apagya Ofori V, in partnership with A Rocha Ghana at the Atewa Landscape to launch the report based on the green economic potential of the Atewa Landscape.
Durbar at Apapam
The program started off with a durbar held at Apapam. In attendance were the ambassador of the EU Delegation to Ghana, the Dutch Ambassador, representatives from Government Institutions, NGOs, Traditional Leaders from Apapam and Segyimase, Municipal and District Chief Executives from the Atewa Forest Fringe Assemblies, community-based organizations, five selected schools, youth groups, and the people of the community.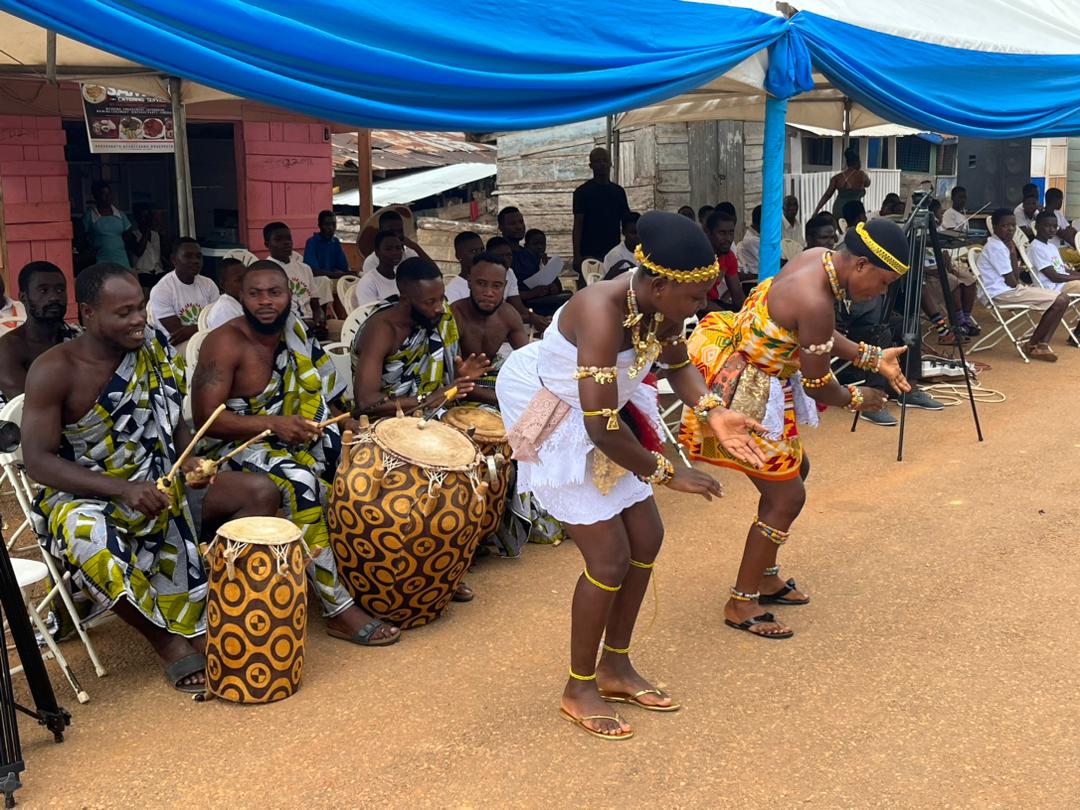 Our Forests Are Our Health
Together with students and community members from Apapam, members of the delegation planted 500 indigenous tree species as part of their contribution to the Green Ghana Agenda under the theme ''Our health, our forests''.
Speaking at the durbar, the EU Ambassador to Ghana, H.E. Irchad Razaaly, emphasized that "Forests are essential to mitigate climate change and environmental degradation. They restore essential biodiversity, provide us with clean air, and protect essential resources for local communities.
The tree planting activity as part of The EU's tree planting support for reforestation efforts by the Government of Ghana under the Ministry of Lands and Natural Resources and the Forestry Commission's leadership consisted of the enrichment planting of various indigenous tree species in identified portions of Atewa Forest Reserve that have suffered from illegal mining.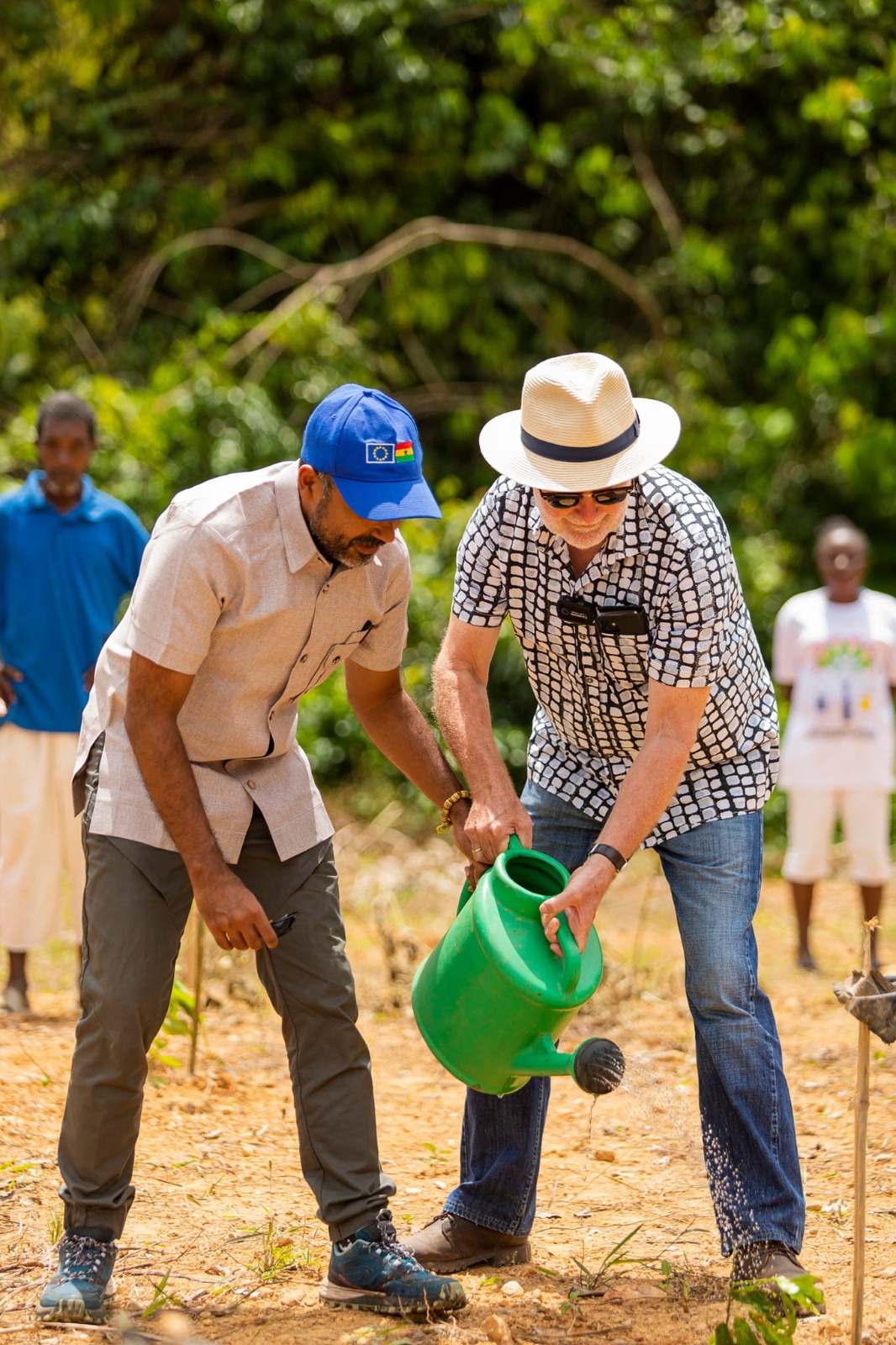 The Atewa Green Jobs Report
The EU report, dubbed the ''Green Development Pathways and Jobs for the Atewa Landscape Report," identifies green businesses and investments alongside program alternatives and that act as alternatives to all forms of mining in the Atewa Forest Reserve, demonstrating that development in Ghana can be sustainably pursued without negatively affecting the environment.
Reading off his address, the EU Ambassador to Ghana, H.E. Irchad Razaaly, expressed that the European Union is already implementing and adding new projects to support green growth, jobs, and development. One of these areas, he stated, is promoting new green jobs in the circular economy and business sector.
As stated by the Okyenhene Osagyefo Amoatia Ofori Panin in July 2021, the report highlights the need to secure Atewa Range Forest Reserve as a National Park and to serve as a catalyst to create 150,000 green jobs, with revenue generation potential of close to 1.2 billion dollars annually.
The Deputy National Director of A Rocha Ghana, Mr Daryl Bosu, expressed the need for all relevant stakeholders, government, traditional authorities and communities to support efforts to secure the irreplaceable forests and ecosystem services that the Akyem Abuakwa area provides, as it holds the foundation upon which to hinge a thriving green development agenda, for people, business and nature.
In his closing remarks, the Apapam Chief, Osaberima Okogyeaman Apagya Ofori V thanked all in attendance and expressed goodwill and support towards the goals and outcome of the event.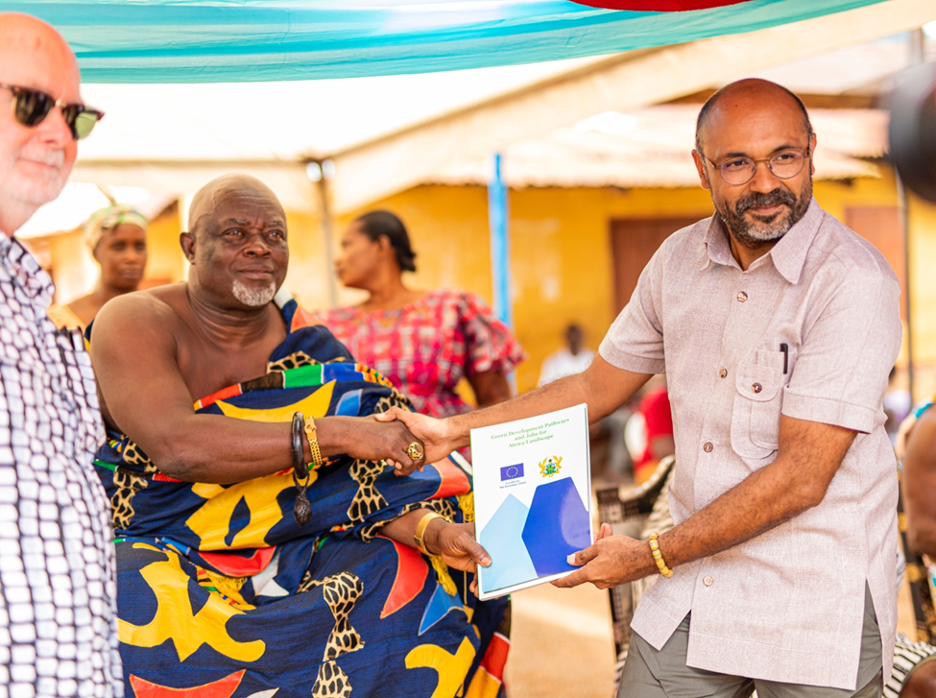 Source: Delegation of the European Union to Ghana
Download the report HERE